Devon was created by the merger of Cornwall, Somerset and Wiltshire in March of 1459. It borders Mercia to the North and Sussex to the East. The county has an ever-shifting political scene and goverment is currently managed by two political parties: majority is held by the Devon Coalition with minority held by the United Brotherhood. 
Towns And Villages Upon creation, the towns in Devon were;
Also upon creation, the following towns were changed to Villages (Nodes):
County Map
Edit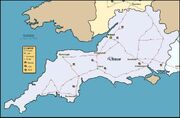 Count(ess) of Devon
Edit
Ad blocker interference detected!
Wikia is a free-to-use site that makes money from advertising. We have a modified experience for viewers using ad blockers

Wikia is not accessible if you've made further modifications. Remove the custom ad blocker rule(s) and the page will load as expected.