Mercia was created when two former English Counties, Stafford and Worcester, merged on the 28th of February, 1459. It borders Westmorland to the North and Devon to the South.
Towns & Villages
Edit
On the creation of Mercia, it contained the following towns:
It also contains the previous towns (now nodes) of:
Recent Activity
Edit
Dukes of Mercia
Edit
Council of Mercia
Edit
The current council, the first to be elected, consists of the following members: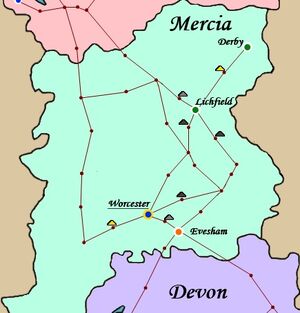 Ad blocker interference detected!
Wikia is a free-to-use site that makes money from advertising. We have a modified experience for viewers using ad blockers

Wikia is not accessible if you've made further modifications. Remove the custom ad blocker rule(s) and the page will load as expected.