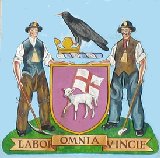 This is a Town Hall owned tavern in Salisbury. Originally called the Salisbury Inn, the name was changed upon the arrival of its current Barkeeper Cornish Bluebird. The Tavern is a place where the Miners of Salisbury can find cheap bread and also cheap meat, this is reflected in the Menu of Cornish Rolls and Cornish Pasties.
Ad blocker interference detected!
Wikia is a free-to-use site that makes money from advertising. We have a modified experience for viewers using ad blockers

Wikia is not accessible if you've made further modifications. Remove the custom ad blocker rule(s) and the page will load as expected.